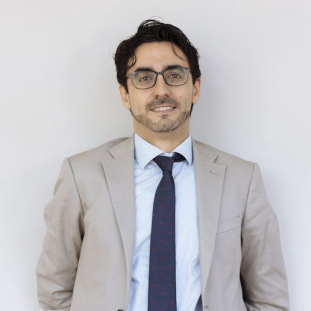 Emiliano Ricciardi, M.D., Ph.D
Associate Professor in Psychobiology and Psychophysiology (M-PSI/02)
Prof. Ricciardi studied Medicine and Surgery at the University of Pisa (Italy) and received his Ph.D. in Neurosciences at Scuola Superiore "Sant'Anna" (Pisa, Italy). Since 1998, he has spent more than two years at the Laboratory of Neuroscience/NIA and Laboratory of Brain and Cognition/NIMH at NIH (Bethesda MD, USA). At NIH, Dr. Ricciardi acquired expertise on the in vivo brain functional exploration methodologies, such as PET and fMRI, to study brain functions and brain functional response to sensory stimulation and cognitive/emotional activation in healthy subjects at different ages and in patients with neuropsychiatric disorders. He is currently leading EU-funded research projects to study the neural correlates of multimodal perception in sighted and congenitally blind subjects, and to conduct behavioral and brain functional observations during action representation and motor control.
Over 75 papers in peer-reviewed journals and book chapters, and >180 abstracts at scientific meetings (Citations: 2,774; H-index: 26 from Google Scholar) https://scholar.google.it/citations?user=wST2W4MAAAAJ&hl=it

The research activity in brain imaging and cognitive neuroscience, mainly in the field of supramodal perception, is highly recognized at national and international levels

The youngest Chair of an Annual Meeting of the Organization for Human Brain Mapping (2010), Scientific and Administrative Secretary of the Italian Society of Psychophysiology (www.sipf.it) and Treasurer, International Organization of Psychophysiology (www.iopworld.org)

Received several fellow travel and young investigator awards. Several invited lectures and oral presentations at international meetings and research/academic Institutions

Managing Editor of the Archives Italiennes de Biologie (www.architalbiol.org) and member of the Review Editorial Board of Frontiers in Cognitive Science
For many years, he has been conducting research in the fields of Cognitive Neuroscience and Psychophysiology, and, in particular, in the assessment of in vitro and in vivo behavioral, structural and functional correlates of physiological and pathological brain function.
Cognitive and social neuroscience, psychophysiology, neuroimaging, cerebral biochemistry and metabolism

Use and development of brain functional exploration methodologies, such as positron emission tomography (PET) and functional magnetic resonance imaging (fMRI), in combination with neuropsychological tasks and/or pharmacological agents to study brain functions and metabolism, and brain functional response to sensory stimulation and cognitive/emotional activation tasks in healthy subjects, and in patients with neuropsychiatric disorders

Neural correlates of visual, tactile and auditory perception and recognition in sighted and congenitally blind individuals; supramodal brain functional organization: sensory- independent object form perception, motion discrimination, spatial localization, action representation and semantic knowledge; cross-modal plasticity

Action recognition and representation; behavioral and functional correlates of motor control

Functional correlates of pharmacological modulation on memory and attention in young and older healthy subjects, and in patients with neurodegenerative disorders

Application of novel tools of brain functional data analysis, including multivoxel pattern analyses and functional/effective connectivity approaches
         http://orcid.org/0000-0002-7178-9534