A.Y. 2015-16
Overview
IMT Institute for Advanced Studies Lucca offers a multidisciplinary PhD program that integrates scientific competences of economics, engineering, computer science, physics, applied mathematics, statistics, history and sciences of cultural heritage. It offers a unique and characteristic patrimony of competences within the broad framework of the analysis and management of a plurality of systems. From the Academic Year 2015-16, the three year program is articulated in 3 curricula. Candidates can apply for one (or more) of the
following curricula:
The image below illustrates, at a glance, the general structure of the program and how the curricula interact with each other. While the courses indicated represent just an example of the classes that a doctoral student may take, the image allows you trace each of the potential paths and their theoretical convergences, before they definitively branch out into one of the 3 curricula, which are all affiliated with one of the Institute's four macro research areas.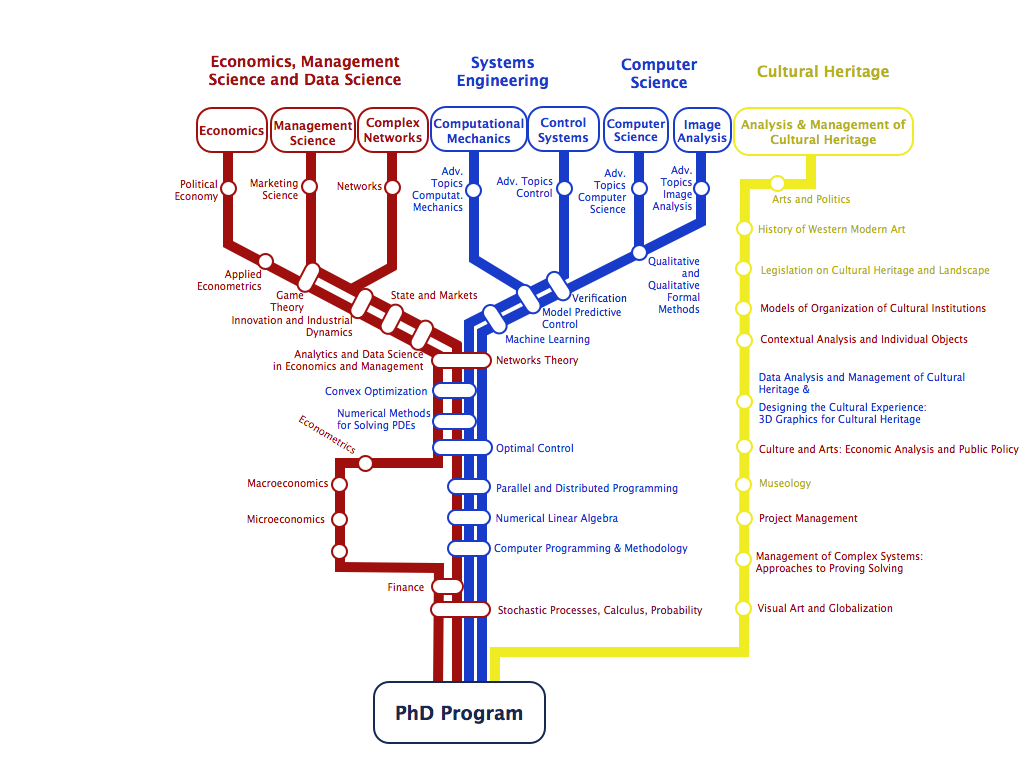 All students therefore participate in set of graduate courses held by world-renowned researchers. As made evident above by the number of course that students in different curricula share, the program is embedded within a multidisciplinary methodological and educational framework.
The course offerings have been designed with a twofold purpose. First, to assure through that all students have the necessary scientific skillset. Second, to guarantee the appropriate training in each specific discipline and to introduce students to the state-of-the-art results in the corresponding field. To instill a broader cross-field standpoint, some of them are accessible to students in other curricula.
Each student must construct a personal study plan with his/her Advisor, drawing from the entire range of course offerings, long seminars and laboratories, to best suit his or her background and research interests.
All courses, long seminars and laboratories can be with or without final examination: students have to agree with their Advisors upon the activities with exams (and then sit them according to the indications of the lecturers).
Moreover, every doctoral student is affiliated with one of the Institute's research units. A rich seminar series completes the educational program, introducing the student to a variety of cutting-edge research topics. IMT's education model that seeks to integrate education and research is therefore fully realized.
While candidates from a multitude of scientific backgrounds may apply – including but not limited to economics, engineering, computer science, mathematics, physics, statistics, humanities, art history, international relations and museology - the program is designed to train a new international professional elite on a meritocratic basis for careers both in academia and in businesses and institutions. With the knowledge that the labor market will be increasingly characterized by a mobility between types of careers that had traditionally been considered separate, IMT aims to equip its graduate students with the most appropriate tools for facing a variety of diverse real-world problems. In fact, IMT's outgoing PhDs will be able to use the skills they obtained during their studies to recognize and resolve complex problems to choose the most appropriate method or instrument to utilize when facing these problems, even in disciplines outside of their primary field of research.
All students are based in brand-new and fully integrated campus in the historical center of the beautiful Tuscan city of Lucca. The campus includes fully-equipped residential facilities, including an on-site canteen, study and living rooms, and outdoor recreational spaces, all serving to add a cultural and social dimension to the professional experience of the doctoral program. Eligible students will also receive a research scholarship.
The PhD program at IMT attracts students from around the world, providing a truly international environment. To further enhance the internationality of the program, all students have the opportunity to spend anywhere from 2-9 months abroad at a research institute or university, with the possibility of receiving additional financing through the Erasmus+ program.